Most of our pets don't like bathing or afraid to get hurt. As a defense mechanism, they try to fight back that leads to injury and some scratches. Using a cat bathing and grooming wash bag helps to avoid resistance from our cat allowing us to work and do our caring work.
Bathing bag perfect for bathing、teeth and ears cleaning、take eye drops、nail trimming, take medicine, examining, injecting and other occasions. It can help your cat take a bath easily at home and take the cat to the pet salon without spending extra money. Let cat feels very comfortable and relaxed.
SIZE FITS ALL CATS
Made to fits all sized cats! The bag is 20″ in length and can fit a cat with up to a 14″ neck and 28″ girth.
MATERIALS
The cat grooming restraint bag made of high quality soft polyester mesh, which is durable and breathable washable, scratch resisted.Won't be tore easily.
HUMANIZED DESIGN
With creative Drawstrings design, can easily control the cat and keep it calm.Avoid cat's sharp claws and teeth make inappropriate cat restraint hazardous.Front hole allow cleaning of front paws, nails.


MULTIFUNCTION
This is an efficient pet bathing tool for cats grooming, bathing, cutting nails, picking ears, clipping,cleaning teeth, feeding, using eye drops, giving medicines and shots, eye treatments, examinations, and administration of medicine, etc.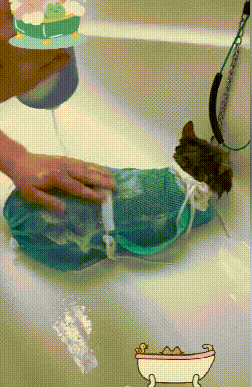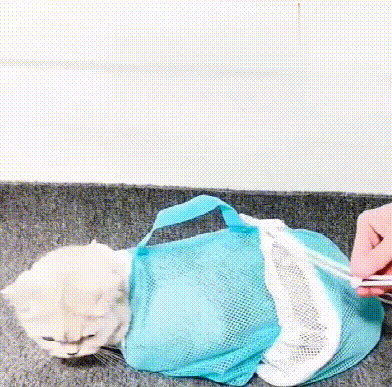 Secure and comfortable fit.
Has a quick-close collar, a two-way main drawstring card buckle for front and rear access, an additional underside zippered paw opening.
Best to use for grooming. 
This is great for dental cleanings, injections, ear and eye treatments, baths, vet examinations, and administration of medicine.