The Bolt is an automatic laser toy that can be used for both cats and dogs. With a simple push of a button, your pet will have hours of fun chasing the laser light around the room. The Bolt automatically turns itself off after 15 minutes to prevent over-stimulation, keeping the game exciting. It's also safe for your pet because there are no moving parts or batteries inside of it. The device uses a high quality red laser pointer so you know your pet is getting all of their energy out during playtime. 
AUTOMATIC ON/OFF
The laser cat toys will automatically shut off 1.5 hrs after every 15 minutes working.
PLACING HIGH
Wider Area to play, anticollision design for your cats,dogs,kittens,etc.
FAST AND LOW MODES
It never make cats bored. The automatic mode can be closed and choose manual mode, you can tease the cat yourself.
5 CIRCLING RANGES
According to your room's area, this interactive cat toys can be adjusted the laser rolling ranges.
POWER BY
✔AA batteries x 4 (Not included). Get funny time with pets in the outside.
✔USB charging(Cable come with boxes),  Needn't worried about less battery when you are out.
KEEP YOUR PLAYFUL PET ENTERTAINED FOR HOURS WITH THE CAT LASER TOY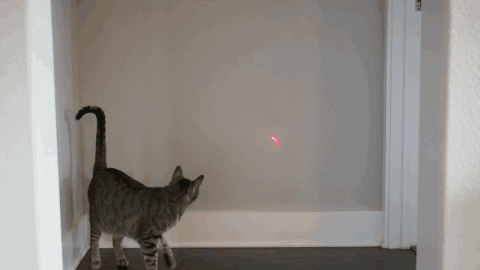 This unique battery-operated toy delivers hours of endless fun thanks to the automated rotating mirror that beams the laser out in random patterns for hands-free solo play to help keep your furry friend from getting bored and anxious while you're busy or away.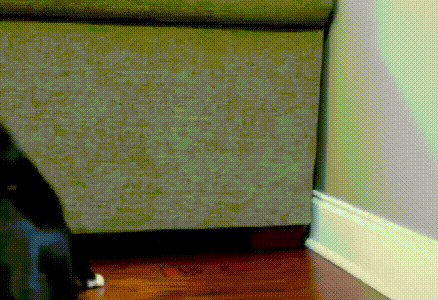 For interactive play with your pet, you can switch it to manual mode and create your own dazzling, irresistible patterns of light for your pal to chase across the floor, up the walls, and over furniture.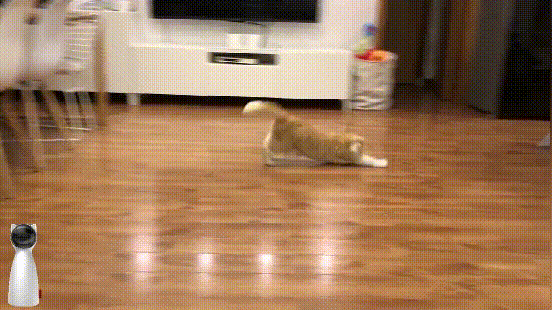 FEATURES
🐱KEEP CAT INTERESTED 
Cat Toy with the laser track that is not only circling but has more modes for your furry friends such as automatically "Stop and Go","Fast and Slow" or run on "Z" of track .It is able to auto startup at every 3 hours and into shutdown after working for 15 mins. All of those designs are for the goal that please your cat well,won't get bored ,play it with a longer time and gain a healthier condition.
🐱ADJUSTABLE CIRCLING RANGE AND HEIGHT
You can control the laser circling range and height in 5 positions with the switch on the back of the laser cat toy.The laser projector is mounted on the front of the cat toy.The farther the laser projector is from the target, the larger the circling range,so it's suitable for most sizes of space and cats are able to run farther.
🐱AVOID KNOCKING DOWN
Because its laser projector is in front of it, as long as the cat toy is facing the site you need to project, its laser track will be circling in front of the cat toy. Therefore,you don't have to place it at middle of a space like other laser cat toys do where is really easily to be knocked down by cat. Cat Toy can be placed it on table,desk,bookshelf,window or somewhere that cat won't notice.
🐱POWERED BY USB CABLE AND AA BATTERY
Your cat can play with it continuously at home when use micro USB (included) to get power from any USB port. Use 4 AA batteries(Not included) for powering it outdoor.
🐱HANDHELD MODE
Switch auto mode to handheld mode,you can use it as a laser pointer for cats,or cat teaser toy and are able to tease cats on the way you like.Bring a delightful time for you and cat. Laser Cat Toy is certified with Lase Class 2 with output at 630-680nm,Diode Laser